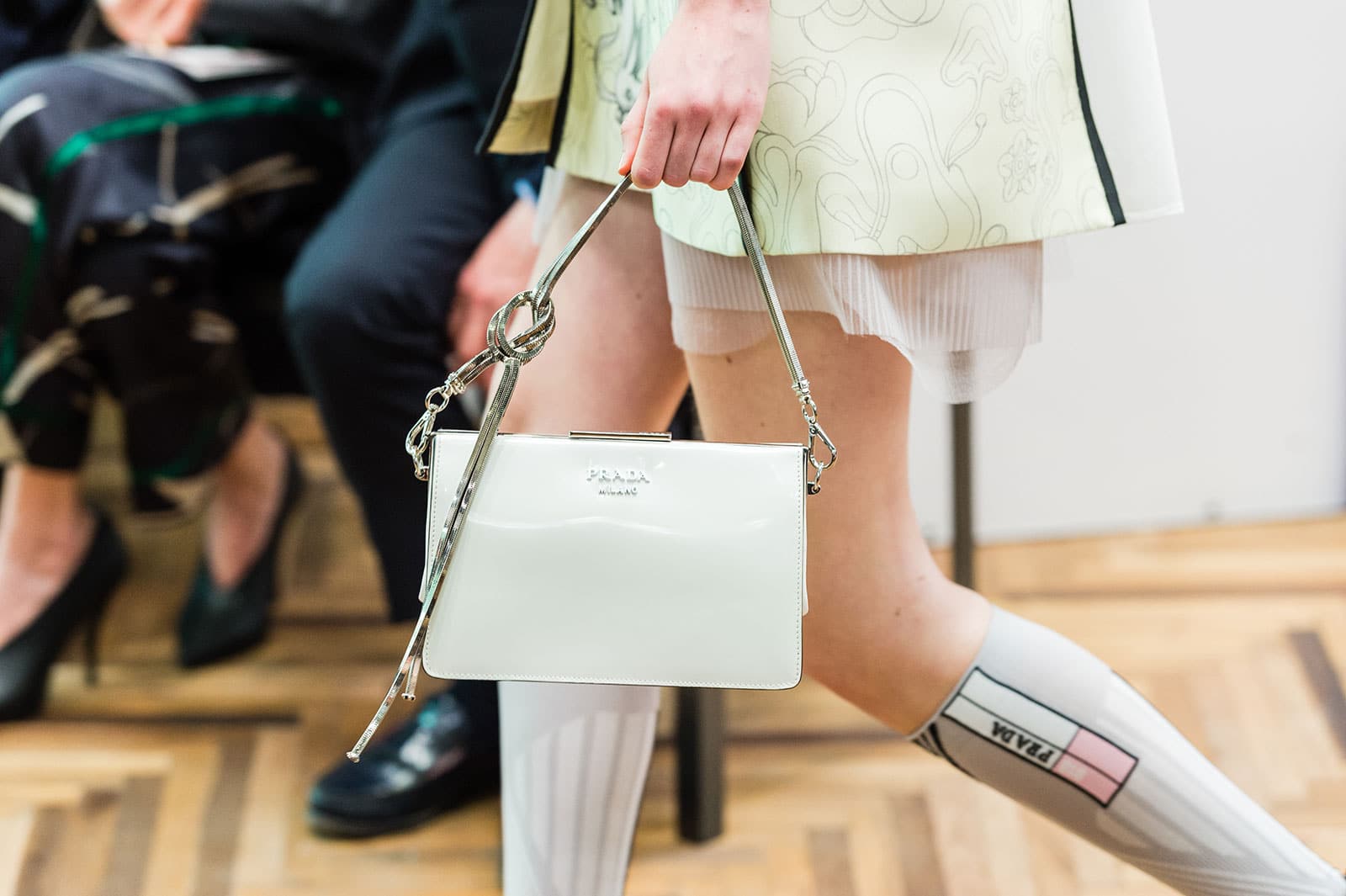 Introducing the Prada Spring/Summer 2018 Runway Bag Collection. Prada's latest collection features femininity and feminism. The brand has collaborated with eight women artists – Brigid Elva, Joëlle Jones, Stellar Leuna, Giuliana Maldini, Natsume Ono, Emma Ríos, Trina Robbins and Fiona Staples. Each artists depicted their own version of women illustrations in different handbags. This season's handbags comes in sporty and edgy styles. Nylon and studs are heavily incorporated in the accessories. The colorful prints of women brings in Prada's playful side, as it is seen in comic art, and mostly presented in the Light Frame and Etiquette bags. Flap bags are presented in structured and slouchy silhouettes. Top handle bags in smooth leather and crocodile completes the collection.
The show was presented at the Osservatorio, a new exhibition space in Galleria Vittorio Emanuele II in Milan, Italy. The collection has a sporty theme which features tracksuits, sneakers and knee-high socks. The brand's latest accessories includes feathered headbands and rabbit printed handbags. Prada has collaborated with Taiwanese-American visual artist James Jean, to design the rabbit and Liberty prints on the collection. The artist has previously partnered with Prada back in 2008, for the Spring/Summer 2008 Collection which features whimsical fairies. Aside from the printed bags, the Cahier and Prada Plex Bags are back this season. Logo clutch bags are also seen in the runway, as well as their signature top handle bags.
This high fashion brand has been experimenting with a lot of new designs and we're finally seeing the fruit of their labor. Their Spring Summer 2018 Runway is quit interesting because it's packed with a lot of gorgeous handbags. They have created new bags and also added a few twist to make them distinctive and intriguing. We've observed and picked out the best of the best, let's talk about that.
Prada Studded Belt Flap Bag
Another flap bag is set to steal a lot of hearts, meet the new Prada Studded Bag. This beautiful thing will be released in the next season, but for now, let's just glance and drool over it.This bag is crafted in squared and boxy shape and it's made in leather. Every piece of this object is exciting, like the unique-designed envelope-shaped front flap. However, all the attention is focused in the center because the lock is so shiny and sophisticated.The center lock is first embellished with large pyramid studs in shiny hardware. The studs are stitched on the belt strap. Then it's refined with the Prada logo. This bag can be worn on your shoulder or cross body. The leather strap is also studded and it can be detached.
Prada Belt Tote Bag
Belt, belt, belt. Recently, Prada has been obsessed with belt and ribbons. They have been adding these two components in a lot of new handbags. Take for example the Cahier Bag and the Ribbon Bag.
For the next season, be prepared for this unique Belt Bag but there is no worry because Prada is good at making tote bag. And if you are fan of Prada, you will instantly recognize the new Prada logo in the center top. This logo is made in leather patches and they're stitched. But what's unique about it, is that it's mirrored from the signature Prada logo which also features the pyramid stud.
This bag is made with an extra long belt strap as an extension of the handle. The belt strap is designed in bi-color and finished with different-shaped studs.
What's more, the bag itself is also available in bi-color. The shades of the body and the leather handles are separated.